Clinic Information
Information on facilities and transportational access to the clinic.
Clinic Information
Address

1-13-17 Matsuoka-bldg 3F Hakataekihigashi,Hakata-ku Fukuoka city, 812-0013 Japan

TEL

+81-92-472-2885

FAX

+81-92-475-9549

Closed

Sundays Holidays Appointments needed. Exceptions for emergency.

Subject

Pedodontics Dentist

Specialized

Pedodontics Dentistry, Handicapped Dentistry,Preventive Dentistry ,Anesthetic Dentistry, Orthodontic

House Call

Thursday afternoons. For bedridden individuals.

Early Childhood Program

Early Childhood program / Developmental Exam / Language Training
Map
By using railway, subway or bus, go straight to Doi Camera Shop in front of Hakata Station Chikushi-guchi. Take the street between the camera shop and Miyako Hotel with one's back to the station. Turn left at the first coming road. Dental clinic is located on the third floor of the building on your right just about halfway between the road. At the entrance of the building, there is a private parking lot for wheelchairs.
Greeting
We are planning to help each individual not only by dental treatment but by more pleasant and more simple ways of dental treatment for health throughout one's life. We also plan to bring you dental treatment, welfare, education at the same dimension of concerning in children's growth and progress or supporting the handicapped in the 21st century.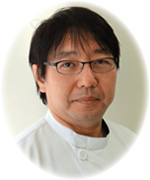 Facilities
Waiting room
This room like a salon has a small stage, which can be used for mini-concerts or showing a movie. In the evening anyone can use this space freely for gatherings or meetings.
Open treatment room
The consultation space is designed with the concept to function simply without many decorations. Wheelchairs can also move without any troubles. It's important to keep privacy with open windows.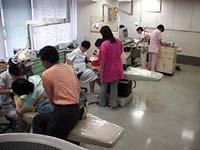 General anesthesia treatment room
The room is for using general anesthesia to focus on treatment. Equipped with general anethetic machine, electrocardiograph, room is adjoined, with bed to sleep quietly until the anesthetic wears off.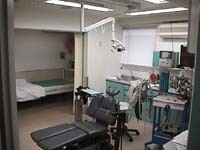 Early childhood program playroom
Playroom for children in developmental nursery. It's complete with instruments such as balance beam, gym mat and swings for excercise functions and also instruments for finger functions, language or intellectual learning abilities.
Staffroom
It's for our staffs to eat , relax and to research at night, furnished with a small kitchen and a refrigerator. After the consultation hours, staffs study and keep medical records everyday.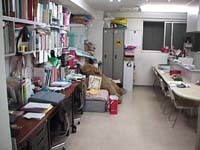 Director's room
The room at the very end of the clinic without a window. Placed with computers on net and facsimile to link the world.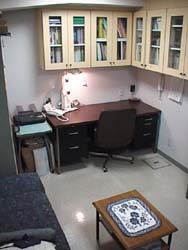 Dental technical room
Room for making false teeth and corrective equipment. It's a small room but full of all kinds of tools, instruments and drugs.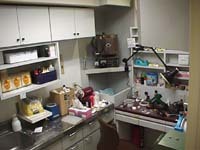 Storage room
(PDFが開きます)
おがた小児歯科医院
〒812-0013
福岡市博多区博多駅東1丁目13−17 松岡ビル3F
JR博多駅筑紫口近く、地下鉄博多駅東6番出口から
(地図はこちら)
TEL:092-472-2885
FAX:092-475-9549
【診療時間】
午前9:30〜12:30
(予約は11:30まで)
午後13:30〜18:30
(予約は18:00まで)
日曜・祝日は休診
完全予約制
(急患は随時受付け)
---